Look what a best seller!
Who else but our King of chocolate biscuits could conquer the highest step of the podium?
Do you know why? Because it can give you the moment of incredible pleasure everybody needs without giving up on quality… the highest one! The quality of Italian wheat ground in small mills, where the grain is not damaged by the speed of the millstones, the quality of good butter – there would be many things to say about it!- the quality of dark chocolate and vegetable oils that provide every bites with a unique melting, pleasantly unusual for a dry biscuit.
And that big chunk of chocolate? It CRACKS under your teeth but immediately melts into a velvety pleasure. No preservatives or artificial colorings, no chemical flavors.
Trust the quality of the Tuscan artisans, we were born and raised in the midst of beauty and goodness, there is no room for anything else.
Both in terms of pieces sold and turnover… It's always the winner!
Let's see in detail the ranking of references.
1° FOR SOLD PIECES… THE WINNER IS…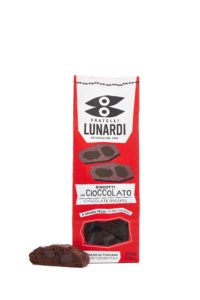 …our  200g (7.05 oz) bag!
With around 9 biscuitsa inside, this is the favorite of both Italians and foreigners. In its new packaging, it's more compact and more colorful than ever. Impossible not to notice it with this beautiful bright red with a transparent window that let you see the chocolate chunks…
Look tasty!
2° FOR SOLD PIECES…AT THE SECOND PLACE WE FIND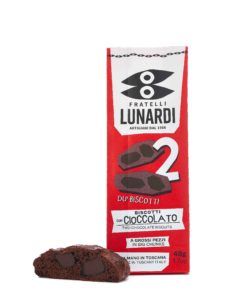 …our "2 BISCOTTI"!
As you can easily guess, it's a bag with 2 biscuits inside. Not enough? We know it, but it is intended as a SNACK to accompany a coffee, interrupt an intense meeting, to stave off the hunger. And given that it each biscuit is approximately 24g, one can be enough, the other – we are sorry to tell you – but you have to share it with someone else! 😉
What if you couldn't resist and have eaten both of them? Well, now you have to burn about 220kcal. No panic: to burn 100 calories you can dance for 15 minutes or go up and down the stairs for 10 mins. Otherwise between burpees, squats, jumping jacks and plank … the guilt will go in no time.
The podium for the turnover is quite different! Let's have a look:
1° FOR TURNOVER, THE WINNER IS….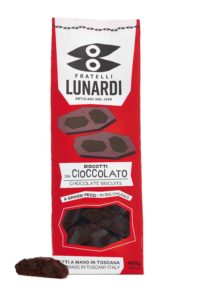 … our 400g (14.10 oz) bag!
It is the best choice for private and corporate gifts – nobody wants to make a bad impression and these sweet biscuits will bring you a bit of positive karma. And then… look how nice they are!
We have already wrapped them up for you so that they are ready to be given as a present. Nobody will ever forget your name!
2° IN THE SECOND PLACE WE FIND…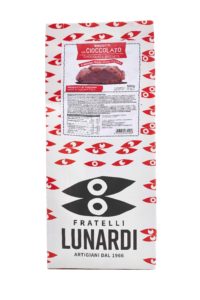 …our 500gr (17.06oz) bag for loose biscuits!
Nobody can resist the breathtaking curves of our biscuits, so what? Put them on display in a generous tray or in a nice jar – don't forget the cap! Bakers, pastry chefs, bartenders, shopkeepers, restaurant owners… please stop it with biscuits that are too hard or too without-something, here you have to win the bingo! And remember: the rule is always the same.
The more generous the tray, the faster they will end.
One pulls the other, then another and another.
LOOK WHO IS READY ON THE STARTING BLOCKS
In the 2020 catalogue, we have added three more references, which are ready to compete for the podium: our brand-new premium boxes. Made with 100% recycled paper, they are perfect as a souvenir gift from Italy.
Small 120g (4.23 oz), large 250g (8.8 oz), and assorted with Cantucci Toscani GPI with almonds 220g (7.7 oz).
Don't miss them all!
Now that you know our best-selling products, go to your trusted shopkeeper, they can't not have them!
And while waiting…you can find all our references at our online shop: